Clinical Therapy Services
We all go through seasons in our lives where we may struggle to find balance in handling daily task or understanding when we have reached our limits. For some individuals they may find that it is more difficult, so they seek the help from a clinician.
Our Clients
We provide online individual counseling services to children, adolescents, young adults, and adults (10 years of age and older) ready to address a variety of needs and getting the support they need to reach their goals. The most common identified needs of our clients include: anxiety, depression, anger management, children/adolescent issues, trauma, relationship dynamics, and women's issues.
Session Format: Individual
Demographic Specialty: African American, Women
Online Sessions Available: Video sessions via Simple Practice
Treatment Specialties: click here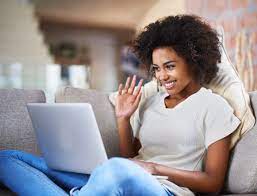 During our initial meeting we will discuss your specific areas of concern as well as assess if we are the right client/therapist fit. From here, we will be able to create your personalize treatment plan and discuss how it can best work into your day-to-day life.
"Mental strength is not the ability to stay out of the darkness, it's the ability to sit present in the darkness knowing that the light will shine again."

– unknown
Our Practice

Counseling services are provided via TeleMentalHealth in MISSOURI ONLY (online video sessions with Simple Practice). Therapeutic approaches may vary as they are based on the specific needs identified to be addressed by the individual involved in services.  Which will allow clients the autonomy to guide their own healing journey.
 All services are provided via a secure online client portal that also serves as a hub for all intake documentation and scheduling.
Melanated Healing Counseling & Consulting does not accept insurance.
The private pay rate is $125 per 50 minute session. I have a limited number of reduced fee slots to ensure financial hardship does not become a reason why clients cannot participate in treatment. A sliding scale fee rate can be discussed if desired. Client will be required to provide their annual salary and fees will be calculated accordingly.
Melanated Healing Counseling & Consulting does not offer crisis/after hour services. If you feel you are experiencing a mental health crisis and need someone to talk to, please call 1-800-273-TALK (8255) to speak with a mental health professional.
---
Please note the cancellation policy. If you do not show up for your scheduled therapy appointment, and you have not notified us at least 24 hours in advance, you will be required to pay the full cost of the session.
---
If you are in crisis and need someone to talk to, the national suicide prevention hotline may help.
contact them at 1-800-273-8255.